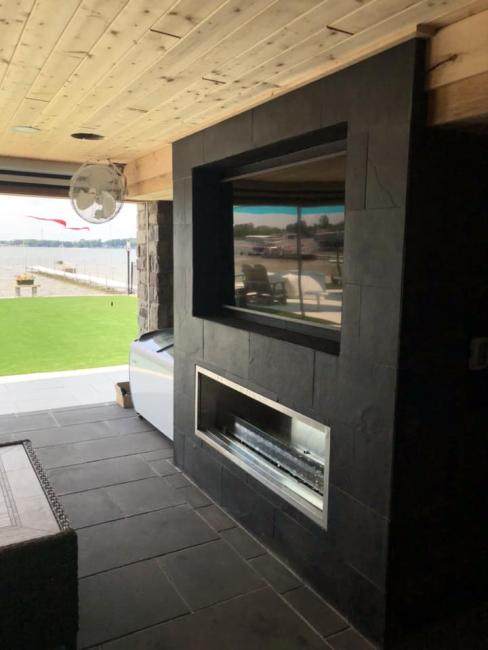 Picture a warm evening under the stars, surrounded by friends and the gentle rustling of leaves. In such moments, the importance of outdoor audio becomes clear—it sets the mood, enhances the ambiance, and brings your outdoor space to life. In this blog post, we delve into the world of outdoor audio, comparing the advantages of high-quality outdoor speakers from esteemed brands like Origin Acoustics, Paradigm, and Bowers and Wilkins. We'll also explore how the integration expertise of AV Imagined, along with Control4 and SONOS, takes these setups to new heights, outshining the simplicity of a Bluetooth speaker.
Crafting Outdoor Auditory Bliss with AV Imagined When it comes to crafting exceptional audio experiences, AV Imagined is a name that stands out. Our dedication to innovation is evident through a meticulous process that encompasses design, sales, and installation. With AV Imagined, your vision of perfect outdoor audio becomes a tangible reality.
Benefits of High-Quality Outdoor Speakers Discover the world of superior sound quality and durability that brands like Origin Acoustics, Paradigm, and Bowers and Wilkins bring to your outdoor space:
Impeccable Sound Quality: Elevate your outdoor gatherings with rich, clear sound that resonates throughout your space.
Durability and Weather Resistance: Designed to withstand the elements, these speakers endure rain, sun, and everything in between without compromising sound quality.
Aesthetics Matter: Seamlessly blend your outdoor speakers with your décor, enhancing both sound and aesthetics.
Expert Integration with Control4 and SONOS Experience the fusion of cutting-edge technology and expert integration that AV Imagined brings to the table:
Control4: Master the orchestration of your outdoor audio through a centralized interface. Adjust volume, playlists, and sync with other smart devices effortlessly.
SONOS Integration: Unleash the power of wireless multi-room audio with seamless integration, creating a harmonious audio network indoors and out.
Real-World Impact: Client's Perspective Hear the real-world impact from a satisfied client who experienced the transformation firsthand:
"Dude. The difference in having good speakers outside and up high is awesome! Totally underestimated how much better than some random Bluetooth speaker. Whole new vibe in the backyard tonight! Thank you and to your guys a ton!"
Comparing Bluetooth Speakers While Bluetooth speakers have their place, they fall short in several aspects:
Portability and Convenience: Easily move Bluetooth speakers around for spontaneous events and travel.
Audio Quality and Integration: While they've improved, Bluetooth speakers lack the sound quality and integration capabilities of dedicated outdoor setups.
Elevate Your Outdoors with AV Imagined As twilight blankets your outdoor space, let it resonate with the melodies of expertly integrated audio. AV Imagined brings tailor-made designs, pristine sound quality, and seamless integration to redefine your outdoor entertainment.
 Ready to amplify your outdoor audio experience? Explore AV Imagined's services and portfolio to embark on a journey of sound and innovation. Visit our website or get in touch with us today.