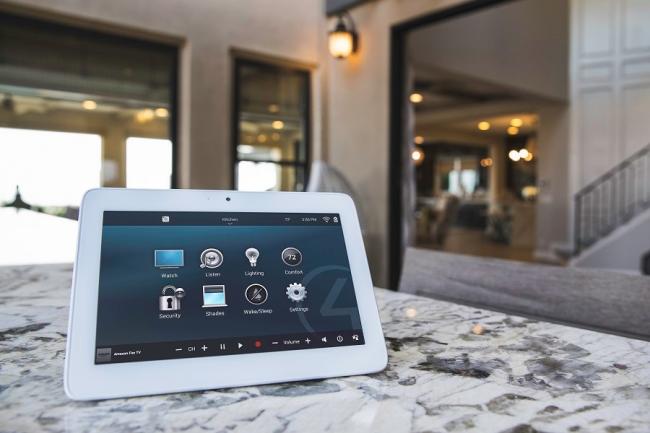 Control4 is a home automation system that allows users to control and automate various devices and systems in their home, such as lighting, thermostats, audio/video equipment, and security systems. The system can be controlled through a variety of devices, including a dedicated control panel, a smartphone app, or a web-based interface. 
One of the key features of Control4 is its ability to integrate with a wide range of devices and systems. This means that users can control their lights, thermostat, and security system all through a single interface, rather than having to use multiple apps or control panels. Additionally, Control4 can also be integrated with smart speakers, such as Amazon Echo, Google Home, or Josh.Ai, allowing users to control their devices using voice commands. 
Control4 also offers a variety of customizable scenes and automation options. For example, users can create a "Goodnight" scene that turns off all lights, lowers the thermostat, and arms the security system with one button press. They can also set up automation based on specific events, such as turning on the lights when the sun sets or adjusting the thermostat when the house is empty. 
Another benefit of Control4 is the ability to control and monitor your home remotely. Users can access the system from anywhere through the smartphone app, allowing them to check on the status of their devices, adjust settings, or even view live footage from security cameras. 
Control4 is not just for residential, it also can be used for commercial spaces like hotel, offices and much more. 
Overall, Control4 is a powerful and flexible home automation system that can simplify the control of various devices and systems in your home. With its ability to integrate with a wide range of devices, customizable scenes and automation options, and remote access capabilities, Control4 can help you create a more comfortable, convenient, and secure home. 
It's important to note that Control4 is a professional grade solution and it is recommended to be installed by a licensed professional installer.