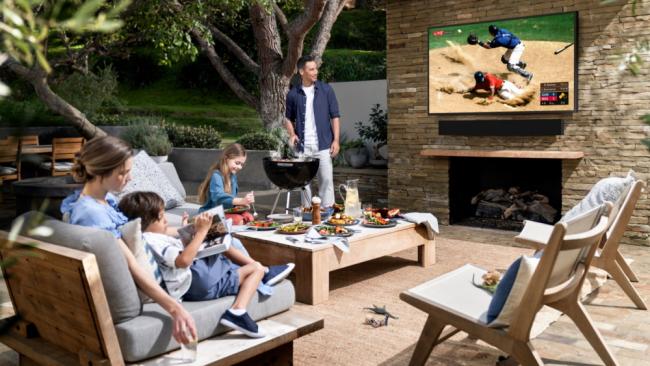 When springtime comes all, we can think about in Michigan is getting outside and enjoying our outdoor spaces.
One of the coolest things we do at AV Imagined is provide an enhanced outdoor experience with a landscape audio system. Basically, we have speakers surrounding your whole yard which means if you have people here (by the pool), there (by the firepit), or over there (by the grill), you get nice even sound. Then later, when you really want to crank it up, the system can do that too. We have great brand partners including Paradigm, Origin Acoustics and Leon who provide amazing speaker systems and industry leader SONOS provides a seamless way to feed digital music to the system from all of the top services including Spotify, Apple Music and more.
Another cool trend that we are seeing is there are more options than ever for outdoor televisions. These updated models offer full sun viewing capability and the ability to adapt for night viewing. They are also able to go in your pergolas or covered patios and are good to leave out year-round. This is great in Michigan with such a diverse climate and hard-to-plan-for weather conditions. We have offerings from Samsung, Seura, Sunbrite and more. We can feed content to outdoor tv's using all the latest in streaming technology. 
The last thing I would say is to make all this stuff work you must have quality outdoor Wi-Fi. We have a great variety of outdoor solutions now to make sure you have effective coverage in your whole backyard.
We offer a lot more beyond these trends so feel free to reach out!