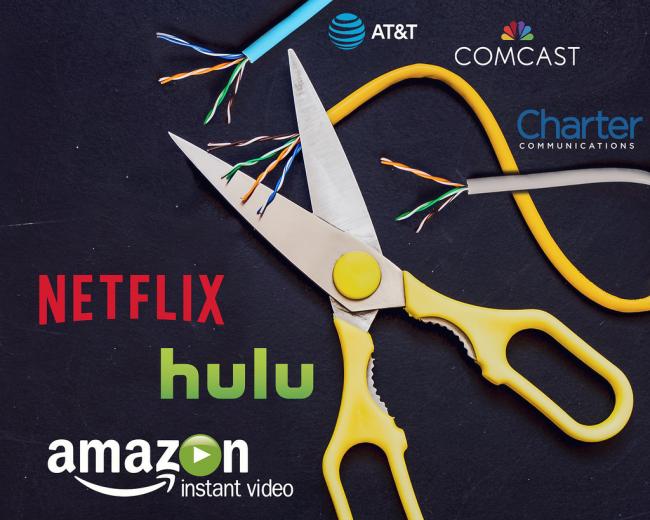 Cutting The Cord
Is it finally time to say goodbye to cable forever? For many (heading towards most) people, the answer is yes.
Rewind your memory to when you decided to keep your VCR so you could go back and watch your tape of the '98 Rose Bowl or a marching band performance of your kids. Fast forward a few years and even the idea of a Tivo recording or DVR in today's era of on demand, streaming and countless other options feels so outdated.
So what impacts your decisions today?
You still need your internet provider. Canceling your cable TV service does not mean that you can also cancel your internet service. Fast, reliable internet becomes the most important thing to any of these services. To capture the best possible picture and sound and have a great experience you need to have the best internet. Internet service is probably one of the few areas that you will have the ability to shop, negotiate, and have any leverage on how much you pay. Getting the best possible deal on internet can make all the difference in the world when deciding what combination of services and options you decide to go with when cutting the cord.
Live viewing experience. Look at replacement services that provide access to the same network and channel options that your current cable provider does. The major players in this area today are Hulu + Live TV, Youtube TV, Fubo TV, Sling TV and DirecTV Stream. These services do a nice job of replicating the cable experience but with some enhancements to the outdated guide and channel listing that we are used to with cable and some other cool features. I recently used Fubo TV to watch the Michigan vs. Ohio State game and was amazed by the sound and picture performance. Fubo TV also offered a function that made watching multiple games on the same screen incredibly simple. The Youtube TV app offers one of the largest channel lineups and gives you access to original content.
Premium and on-demand viewing experience. Streaming services like Netflix, HBO Max, Hulu, Amazon, Disney + etc. can be individually selected based on your personal preferences. These options are not traditionally an option for live programming but are a great supplement to a live TV package. They are premium networks that offer a wide range of entertainment content.
Over The Air Options. One of the most overlooked areas in the cord cutting discussion is the amazing quality of signals you can get with a simple TV antenna. Over the air was one of the first places that we where able to capture HD signals and it continues to be one of the best. A new technology called NextGen TV is already coming as a function of new TVs from Samsung, LG, and Sony. The new technology is being broadcast by local channels in the Detroit area already. NextGen TV allows for some cool audio technologies and higher resolution video feeds to be received.
Cost. Consider all the costs between the live TV options will cost in the range of 50-70 dollars a month and the streaming services will be in the range of 10-20 dollars a month each. Internet service prices seem to range a lot from market to market but I have seen prices for home internet anywhere from 50-150 dollars a month depending on speed and market.
The new way is to customize your experience. Ultimately more options mean more choice, but it also means that you need to do your research to decide what options would be best for you.
I believe the most important thing is to consider what types of programming you and your family enjoy watching and selecting a combination of the options. I am currently running with a combination of the streaming services and good internet. I have been dealing without live TV for the past few years and do miss live sports at times.