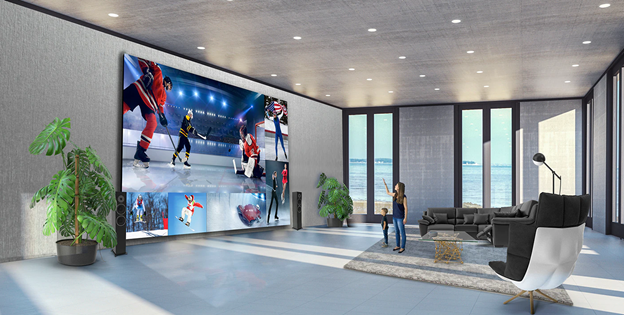 CES 2022 is going to be big for the TV market. Until now the display market has been limited to sizes up to 100" and comes in LED and OLED options. This year we will see the first direct-to-consumer Direct View LED displays.

What is Direct View LED?

Traditional flat panel displays use a backlight (OLED or LED) combined with a photo layer over the top that allows the TV to make its image. DVLED is like taking the large screens we see at stadiums and concert venues and putting them in our living room. DVLED is made up of smallish panels that consist of micro-LED lights that make up the pixels of the display. The small panels can then be combined in different configurations to make up to a 300" image.

Why Direct View LED?

It comes down to options. Home theater is back in a big way with more people staying home and reinvesting in the home experience. Traditionally the largest displays we could do in a home relied
on projection technology which is great in its own way but also limited. Projection TV needs a screen and projector and is dramatically affected by ambient light. On the contrary, DVLED is bright in any room and can be built to almost any size.

We have seen announcements from all the major TV vendors including Sony, Samsung, and LG that they will soon have DVLED tech available. Currently, it is reserved for the "luxury" market meaning it's going to be cost-prohibitive for most to start but we should expect access and prices to drop dramatically over the next decade. DVLED is one of the most exciting technologies to enter the home entertainment space in a long time.